Seeking Millionaire Review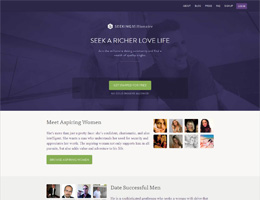 Seeking Millionaire is a dedicated online community where people get to enjoy the best pleasures of life. If you wish to lead a love life with a rich guy, then there are not many better websites as compared to SeekingMillionaire.com. A simplistic user interface, a sophisticated search function and a gorgeously aesthetic design lets you choose from a huge variety of potential rich/pretty suitors. If you want to start enjoying with your partner right away then SeekingMillionaire can cater to your needs and desires supremely.
Subscription:
The basic membership to SeekingMillionaire.com is offered for free, but to avail the premium features of this website, members have to register themselves as a platinum member. Here is the list of latest subscription charges:
Platinum Membership:
30 Days: $59.95
90 Days: $139.95
180 Days: $239.95
Verified Platinum Membership:
Prices are subjected to change without prior intimation, for updated charge list please check subscription page at SeekingMillionaire.com.
Features:
Widest membership database: SeekingMillionaire.com has the widest collection of wealthy and successful men. The website guarantees a perfect rich match to all its members.
Featured in Wall Street Journal. New York Times and other famous journals as the best online wealthy dating site.
Verified Identity; SeekingMillionaire.com verifies the identity of its users to eliminate fakes. Members can be assured of the identity of the members.
Support: SeekingMillionaire.com offers round the clock support in English and Spanish.
Messages and winks: This dating website allows members to send winks and start a conversation.
Free membership to college students: If you are a college student, then you get free premium membership to this website.
Private photo gallery: Members can create their own photo gallery which can be accessed by only those in their friends list.
Detailed filters: SeekingMillionaire.com has detailed filter options that would refine the member list on the basis of drinking habits, age, location, children, education, smoking, height, hair color and more.
Select your account type: At SeekingMillionaire.com there are two types of account i.e. Wealthy and Attractive. Members can select which category they fall in and make a profile accordingly.
Verdict:
SeekingMillionaire is an online dating service that is unapologetic about its approach. This online website helps users find millionaires for dating and fun. The website is very popular among wealthy men and attractive ladies. The membership fee is slightly on the higher side, but then it is a place dedicated to rich men who can certainly afford it. The website is easy to join and use. The website boasts about real members which to a certain extent is true. The site certainly offers value for your money. So try your luck at SeekingMillionaire.com.
Click Here to Visit SeekingMillionaire.com » or « Back to Homepage