SugarDaddie Review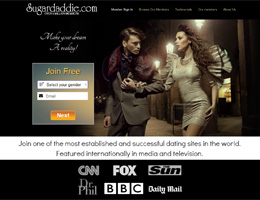 SugarDaddie asks a simple question to its potential female members: Are you a sugar baby that wants to date a millionaire/sugar daddy?
Most sugar babies, of course, answer yes and this is the basis of the success for this site which is a high quality dating site for successful men who have financial security (sugar daddies) and attractive single women. It was one of the first specialised dating sites for those seeking sugar daddy sugar baby types of relationships.
Establishment and Membership
SugarDaddie.com was established some 14 years ago and believes that its success is driven by having a database of thousands of successful men and beautiful women who accept that ambition and a successful lifestyle are traits of attraction. The site has a high ratio of women to men (almost 2:1), with members mainly from the US, Canada and the UK.
A sure sign of its popularity is that the site has been seen in the media in several countries, being covered on shows such as Dr. Phil in the US and Richard and Judy in the UK. It has also been mentioned in the New York Post and some UK newspapers.
Connecting People
SugarDaddie makes every effort for members to attain the relationship they are looking for with the comforts of a lifestyle they desire and the maintains that it delivers an unrivalled matchmaking service. Their target members are Sugar Daddies who are aware of the finer things in life and understand that good living is not a luxury, but a necessity.
When it comes to profile listing on SugarDaddie, quality is maintained to ensure a member's experience is enjoyable, and each profile is reviewed and approved by a staff member. This doubles as a security feature and, sometimes, it may be up to 24 hours before new profiles are visible to others.
Key Features
Some of the key features of the site include: large data base of attractive, approved singles; interesting online forums; access to comprehensive photos/profiles; email to contact members; and so on.
A paid membership, naturally, allows greater to access to other features of the site, including contacting other members and using various forums to contact and chat with other members.
Search Options
Sugar babies or sugar daddies can be found by using the basic search available to all members, utilising various criteria such as location, ethnicity, age, body type, height, hair colour, if they have a photo, or even if they smoke or drink.
Users can click the hot button on their profile if they see someone they like to add them to their hot list, and there is also a reverse hotlist to see which member has reciprocated.
Membership Rates
SugarDaddie offers a variety of paid membership packages starting from as little as $21.99 for 1 month and $109.99 for 12 months (only $11 per month).
Customer Service
SugarDaddie takes a positive approach to customer service, aiming to assist and advise members wherever possible. It offers a very high standard of service, which frequently delivers quality feedback - and also results in successful relationships between those seeking to expand their social network and others who have found long term partners and marriage.
Verdict:
In conclusion, SugarDaddie caters to those seeking the stereotypical sugar daddy relationship; namely an older wealthy, man dating a young beautiful woman (his sugar baby). It was one of the first wealthy men/millionaire sites of its kind, is easy to join and offers an open and clear pricing plan.